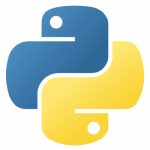 Intensive course on Python & Data Science
During the first week of courses, namely on Mon 30/9 and from Wed. 2 to Friday 4/10, at 5-8pm, an intensive course on "Python and Data Science" shall be held at the Linux Lab of the Dept of Informatics & Telecoms.
The course is compulsory for all 1st year students of both directions and shall be graded.
PYTHON ΚΑΙ  ΕΠΙΣΤΗΜΗ ΔΕΔΟΜΕΝΩΝ. ΤΗΝ ΔΕΥΤΕΡΑ 30/9 ΚΑΙ ΤΗΝ ΤΕΤΑΡΤΗ 2/10 ΕΩΣ ΤΗΝ ΠΑΡΑΣΚΕΥΗ 4/10, ΣΤΙΣ 5-8 ΜΜ ΘΑ ΠΡΑΓΜΑΤΟΠΟΙΗΘΕΙ ΕΝΤΑΤΙΚΟ ΜΑΘΗΜΑ ΕΙΣΑΓΩΓΗΣ ΣΤΗΝ PYTHON ΚΑΙ ΤΗΝ ΕΠΙΣΤΗΜΗ ΔΕΔΟΜΕΝΩΝ ΣΤΟ ΕΡΓΑΣΤΗΡΙΟ LINUX ΤΟΥ ΤΜΗΜΑΤΟΣ ΠΛΗΡΟΦΟΡΙΚΗΣ. ΤΟ ΜΑΘΗΜΑ ΕΙΝΑΙ ΥΠΟΧΡΕΩΤΙΚΟ ΓΙΑ ΤΟΥΣ ΠΡΩΤΟΕΤΕΙΣ ΦΟΙΤΗΤΕΣ ΑΜΦΟΤΕΡΩΝ ΚΑΤΕΥΘΥΝΣΕΩΝ ΚΑΙ ΘΑ ΒΑΘΜΟΛΟΓΗΘΕΙ.